Just finished uploading a bunch of my recent pick ups to Sportsbuy.com and Photobucket. I'll show off a couple of my favorites here.
2005-06 Andreychuk Ultra Promo
I've never had a promo card before, so this breaks my "promo cherry."
2006-07 Parkhurst Captains JP Parise
His son
Zach
is kicking butt for the Devils. I kinda remember something from religion class about stars and devils going hand in hand, so this might be kinda fitting.
2006-07 Parkhurst Captains Denis Potvin
How can I not include Potvin? I just wish Parkhurst would have used the playoff beard look, as that's how many folks outside of Long Island remember him.
2008-09 SP Game Used Zach Boychuk Rookie
Pretty colors...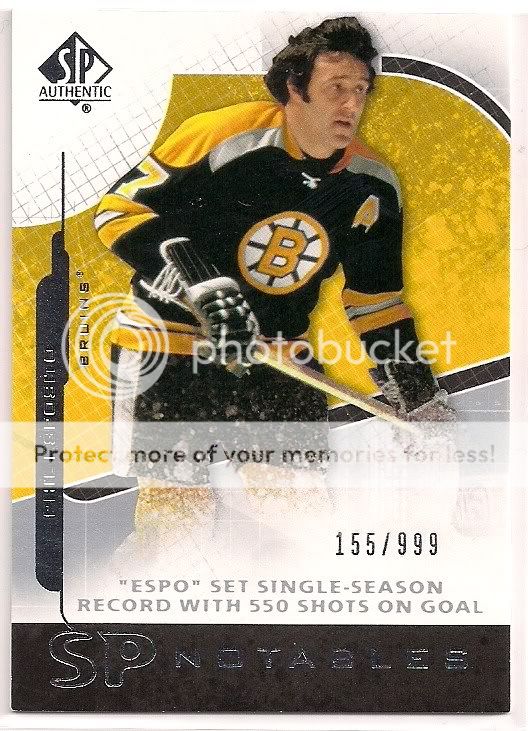 2008-09 SP Authentic Notables Phil Esposito
Included because the card points out that Phil is notable because
Gretzky
didn't surpass his 550 shots on goal in a season. I guess that makes sense, since Gretzky had people to pass to.
2008-09 SP Authentic Limited Future Watch Brendan Mikkelson
I have
his regular Future Watch Rookie
card from the same set, and I just like to say his name.
2005-06 Upper Deck Goal Celebrations Ilya Kovalchuk
Another one of those names that I enjoy saying. Reminds me of the Beastie Boys.
If you haven't already heard, I've moved all of my inventory to
sportsbuy.com
. The links will take you to that card on sportsbuy. All of these cards and a bunch more are available for purchase.